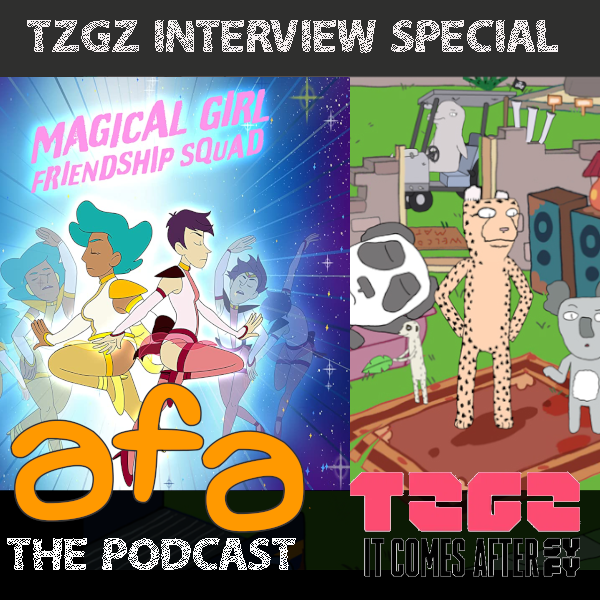 Continuing our series of AFA Podcast Interviews, this week we bring you a special episode in which we got to talk with the people behind two brand new series coming to TZGZ, the adult animation block on SYFY. AFA's Evan Vernon spoke with Kelsey Stephanides, creator of magical girl comedy Magical Girl Friendship Squad, where she discusses how she came to create the show and how the series stands out in the world of adult animation by being created by and starring women of color and other underrepresented groups. Then  he spoke with actor, artist, stand-up comedian and trained opera singer Matteo Lane ( 0:17 ) who stars in the series as villain Corvin.  
After that Evan speaks with creator and executive producer Adam Davies, and executive producers Dylan Dawson, and Alex Plapinger (0:35) ,  of TZGZ's Wild Life, who talk about how the series came to be and how they relate to the characters . Then finally he spoke with Baron Vaughn (0:57)actor and writer who starts in Wild Life as Hudson the hyperactive Fox, who discusses his character and the challenges and benefits of voice acting versus on-camera work.
Magical Girl Friendship Squad Premieres on Saturday 26 September at 12am Eastern, followed by Wild Life at 12:15. TZGZ is broadcast every Saturday from midnight on SYFY.
Please be aware that this episode contains some strong language and some language some people may find offensive. All timecodes aproximate.
Want to send us a message, question or suggestion for a future show? Email us at podcast[@]animationforadults.com.
Show notes
Want to help us make more episodes? Please consider supporting us on Patreon and get episodes before anyone else, plus bonus episodes and more! Other ways to support the site here
DONATE:
<